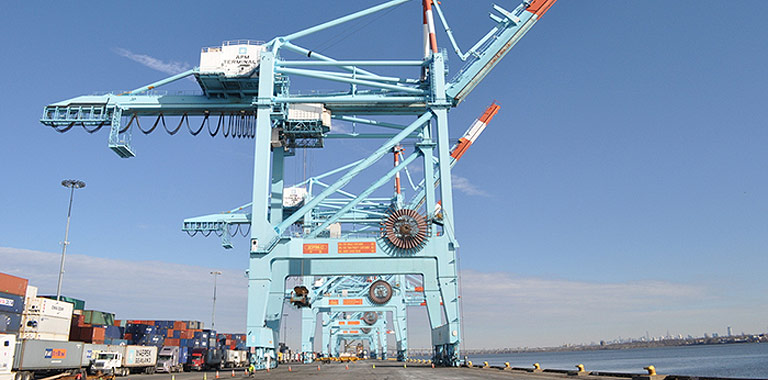 Client – Port Authority of New York and New Jersey
Scope of work – Port and terminal masterplanning
---
The Port Authority of New York and New Jersey is the largest collection of neighbouring container terminals on the US East Coast, and the largest centre of auto and refined petroleum ports in the US. The port is unique as a bi-state port and serves one of the country's largest consumer centres. In 2001 a Comprehensive Port Improvement Plan (CPIP) was implemented to cope with growing consumer demand.
The catalyst was a harbour navigation study carried out in 1999 by the US Army Corps of Engineers (USACE), which recommended deepening channels in the port to accommodate container ships with a 50ft draft. The study showed that the existing port infrastructure could not fully accommodate projected future cargo volumes. In January 2000 a memorandum of understanding (MOU) was prepared to develop the framework for 'a regionally supportable, unified plan…to identify necessary improvements and respond to the need for an economically viable and environmentally sustainable port'.
The CPIP had four parts: forecast cargo demand to 2060; examine the existing capacity of port, rail and highway infrastructure; develop terminal and land-side transport improvement options to cater for the capacity shortfalls; and evaluate alternatives.

The project was awarded to Halcrow in May 2001, and Julian Johanson-Brown was one of three port planners. Based in New York for four years, he was responsible for assessing existing terminal capacity and proposing operational enhancements. He began by cataloguing more than 500 tenant facilities, which were filtered down to 17 baseline terminals that represented 99% of the throughput at the port.
His role as a port planner included interviewing terminal operators and identifying bottlenecks and constraints to their throughput. Working with each terminal he prepared an optimised operational model that was tested with the operators to ensure there was a consensus on its practicality. He took particular care to address each of the parameters associated with terminal capacity, including dwell times, yard densities, TEU/FEU ratios, equipment utilisation and downtime, and gate operating times.
In addition to the terminal assessments, the project also modelled the highway network capacity and railway provision to the port and schemes already in hand.
The outcome was a comprehensive assessment of the port facilities and the capacity of the New York and New Jersey marine terminals; a catalogue of tenants and facilities; and proposals for terminal enhancements to meet the forecast traffic and cargo demands.
In the process Johanson-Brown developed his skills in port and terminal planning and gained valuable experience of working within a multidisciplinary team, incorporating several firms and roles as diverse as trade forecasting, highway and rail modelling, environmental impact assessments and public outreach.
The published final report concluded that the overall capacity in the port was sufficient for several decades, and the wetland and waterfront fill needed to create new land to accommodate forecast volumes was substantially less than predicted at the start of the CPIP study.